Waterproof Device Wearable Ring Tag
Waterproof Device Wearable Ring Tag
Antenna Size: D17.7mm(±0.1mm)
Tag Size: D19.1mm
Protocol: ISO/IEC 14443A
Chip IC: NXP NTAG213

Overview
Specification
Reference Pictures
Support
Compare with Aluminum antenna/inlay, copper wire antenna made Inlay & Tag has better performance on RFID Reading/Encoding.

Especially to those small tags like NFC which requires good R/W distance and Q-value, copper wire Inlay plays key roles in RFID industry.

Antenna and inlay manufactured under world-class and eco-friendly facility. Multi-process likes silver coating are available!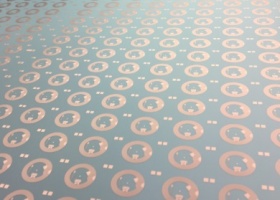 What can we do?
HF and UHF copper antenna custom design and production

1

Copper antenna inlay and tag custom make.

2

Single side Cu laminate, PET film, plus silver bridge for HF requirement, OSP optional, L/S= min. 75um, Roll to Roll production

3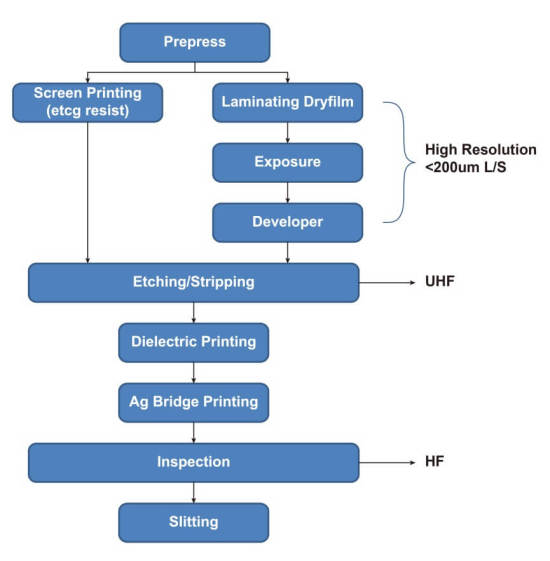 How to order your own copper wire antenna for inlay/tag manufacture
1. If the antenna design available
Send us antenna design drawing and web layout, according to different RFID chip

RealSmart Tech helps you design and antenna according to requirements

NRE for samples make

Buyer qualifies the samples

Buyer placer order for QA lot production

Mass production
2. If you need assistance on antenna design
Send us antenna, inlay and tag all dimensions and requirements

RealSmart Tech helps you design and antenna accordingly

NRE for samples make

Buyer qualifies the samples

Buyer placer order for QA lot production

Mass production
Dimensions
| | |
| --- | --- |
| Antenna Size | D17.7mm(±0.1mm) |
| Tag Size | Outer D19.1mm, Inner D11.2mm(±0.3mm) |
Product Features
| | |
| --- | --- |
| Antenna Material | Copper Etching |
| Appearance Characteristics | FPC Board |
| Product Characteristics | waterproof, Recycling |
| Operating Frequency | 13.56MH (+/-0.5MHZ) |
| Protocol | ISO/IEC 14443A |
| Chip IC | NXP NTAG213 |
| Memory Capacity | 144 byte |
| Operating Mode | Read or Write |
| Read and write range | ≥1.0 CM (Desktop Reader IVF-RH11) |
| Programming Cycle | 100,000 cycles |
Environmental Parameter
| | |
| --- | --- |
| Operating Temperature | -25℃~75℃ |
| Storage Temperature | 0℃~25℃ |
Packing Details
| | |
| --- | --- |
| Delivery Way | Piece by Piece/Bag |
| Volume Number/Bag | 100~3000 PCS(According to actual demand) |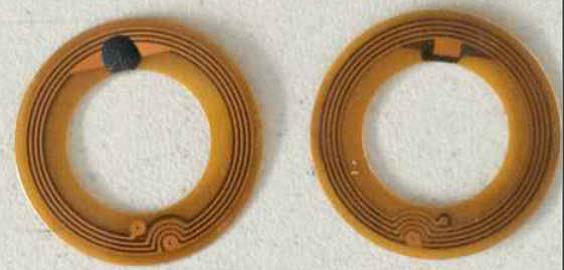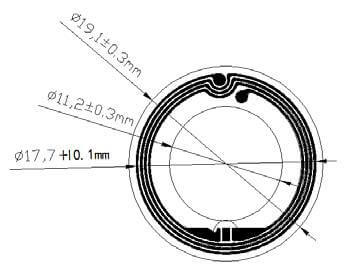 Inlay/Tag outsource manufacture.
Once antenna ready, if you want to get inlay/tag produced by one pass. Happy to do it for you!

Abundant IOT will generate more demands on various RFID tags including high performance NFC etc applications. As same, all inlays/tags will be manufactured in first-class equipped facilities. Secure your lead time and quality!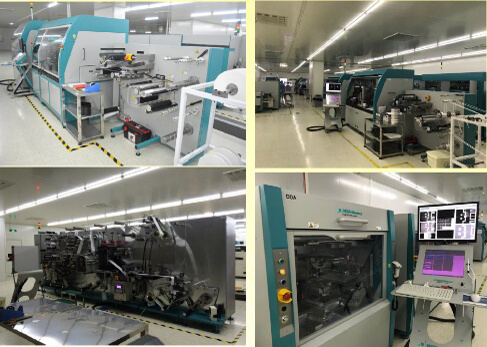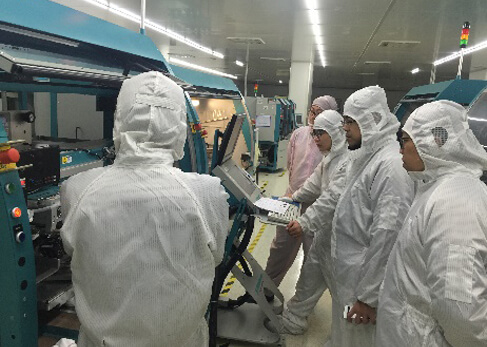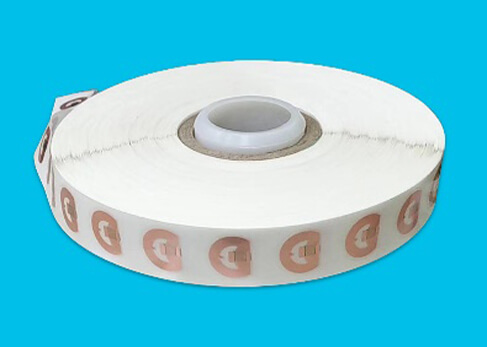 Support
Chip of HF 13.56MHz ISO14443A,B, ISO15693, NFC, Felica etc

Chip of UHF: ISO18000-6C, EPC C1G2 etc from Impinj, Alien etc.

Copper Wire Antenna and Aluminum Antenna

Various Dry Inlays, Wet Inlays, Labels as custom made.
Capacity
Dry Inlay: 50M/month

Wet Inlay: 55M/month

Label: 50M/month
Here table is machines list of 2017. Now more are in procurement process. You are so welcome to visit and witness by yourself!


For most RFID Inlays and Tags are customized as project. We're able to provide turn-key-solutions from antenna design, inlay manufacture and tag converting make.


What's an ideal RFID Antenna/Inlay/Tag design and manufacturer partner you are looking for?

Still headache to find reliable copper wire antenna and inlay provider?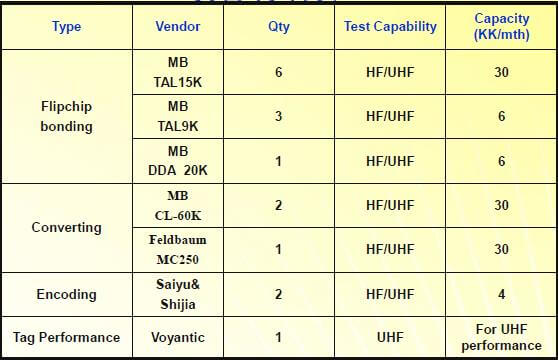 HAPPY TO HEAR YOUR MESSAGE