UHF LED Label - Edison Series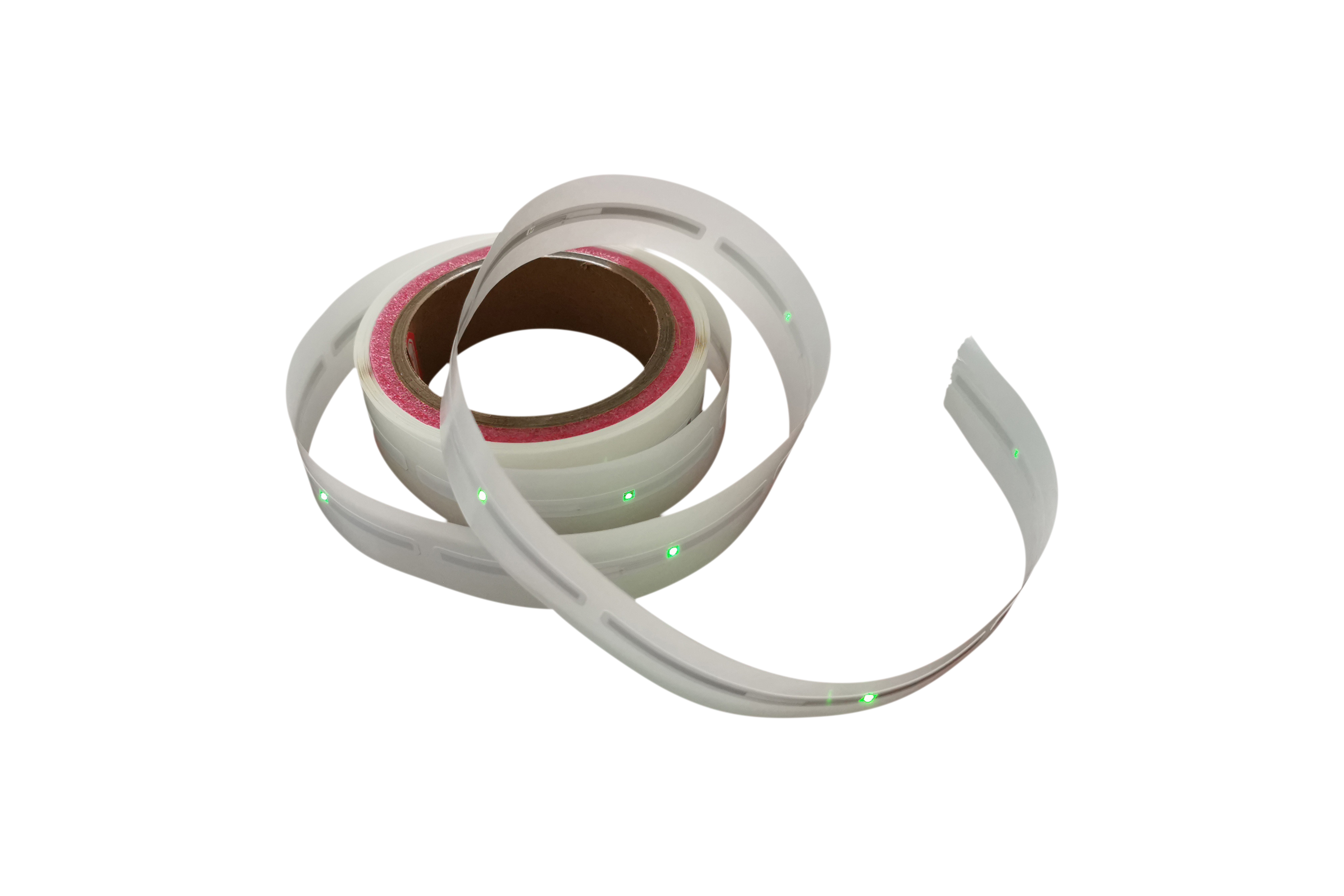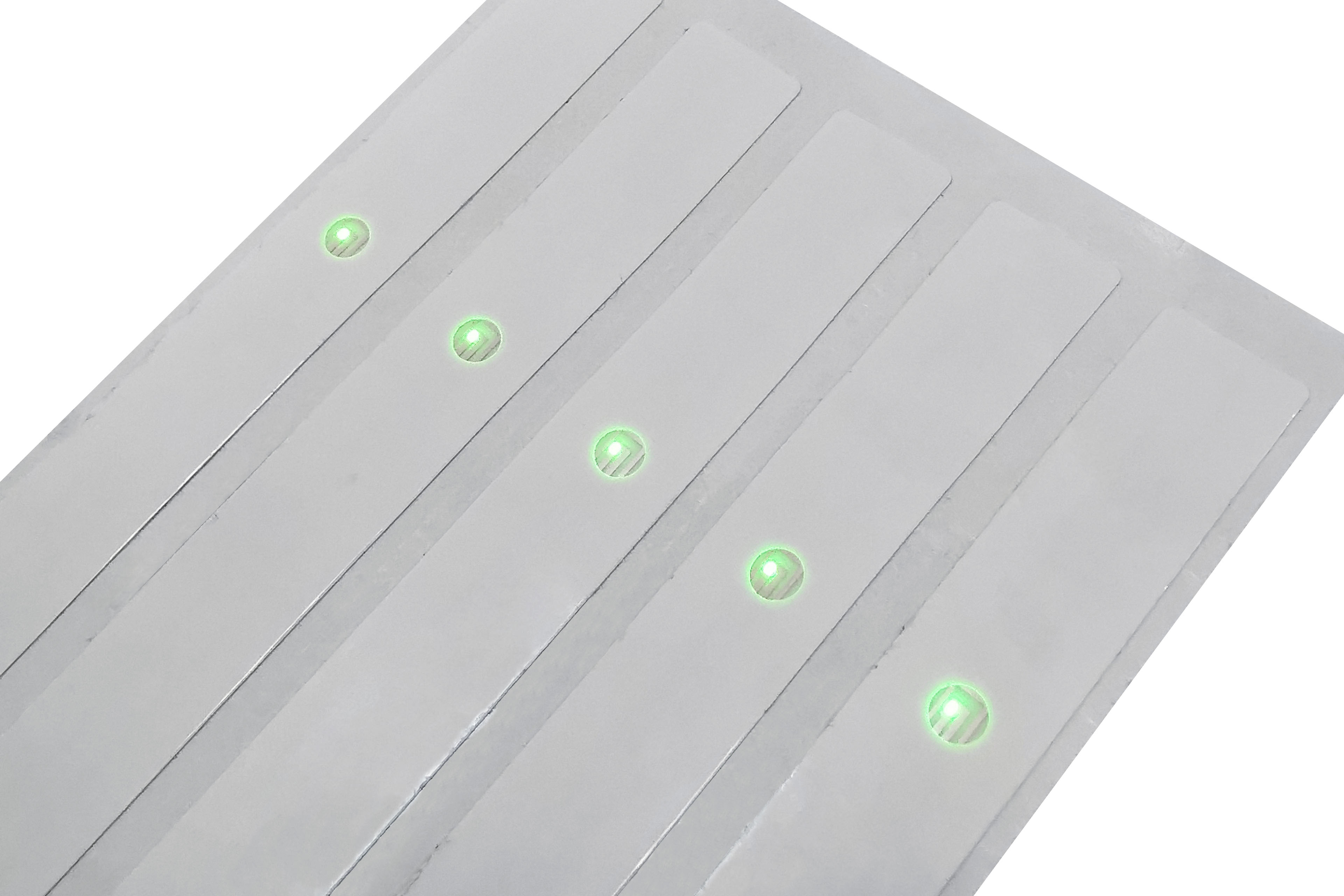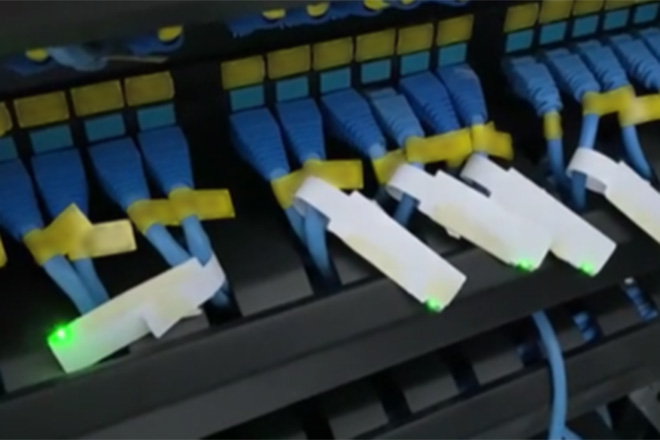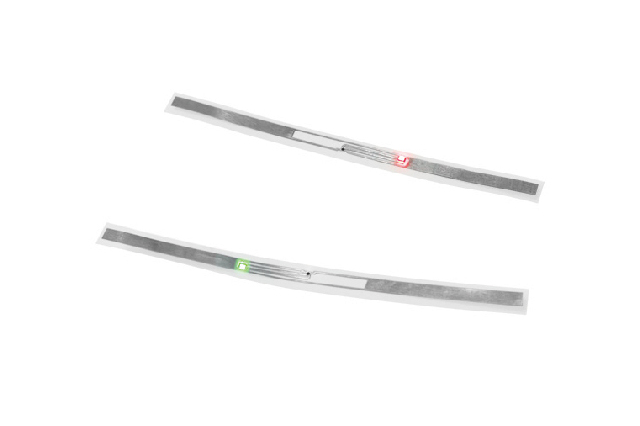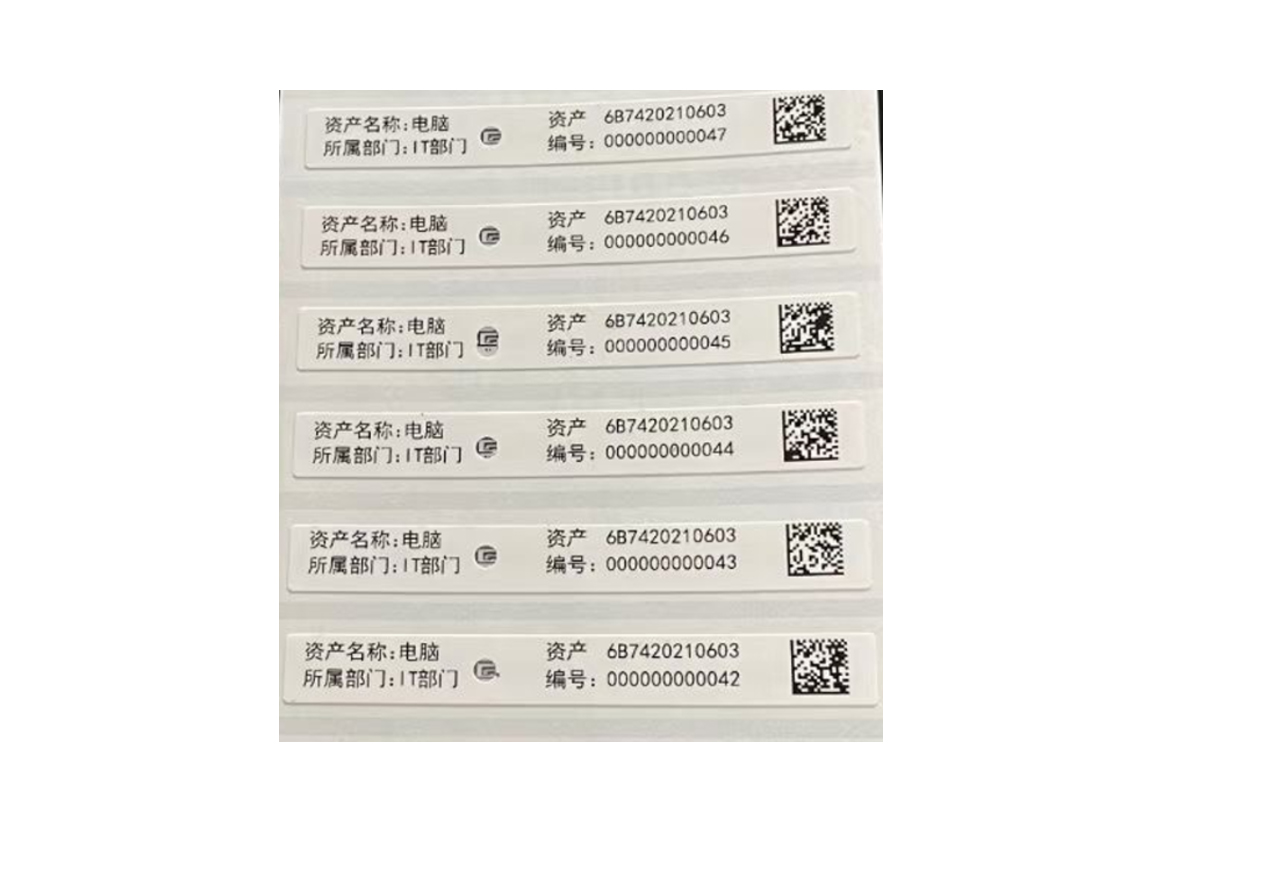 UHF LED Label - Edison Series
Product: RFID UHF LED Label Series
Antenna: 95*3mm
Dimension: Customized

RF Protocol: EPC Class 1 Gen 2, ISO 18000-6C
Key Application: Archives, Cables, Items, Jewelry, Assets, Garments, Packages, Document

MOQ: 1000PCS

Description
Application
Product Form
How to Light Up LED
FAQ
Overview
Some RFID applications requires to find specific unit from group items.
UHF LED Inlay is ideal design to reach item finding solution, suitable to various of RFID location applications.
With universal RFID device, reads & locates the INLAY/ tag with specific TID, then remotely triggers LED on, realize the fast query and locate target items!
Assist to find item's location, greatly improve the searching efficiency and management level!
The perfect combination of UHF long-distance reading & LED lighting eliminates industrial pain points and makes RFID application more valuable!
Feature
※ Led lighting on with appointed TID of Inlay / Label
※ Outstanding performance: Bulk-reading, Quick Led On
※ Universal Design: Capable to roll label converting
※ Label Printable: Plain surface, support most RFID printers
※ Customized Inlay: Various sizes for tailor-made project
※ Shipping form: Dry Inlay, Wet inlay, Label in roll
※ Led lighting on distance: 3 meters *
※ Label reading distance: Up to 13 meters *
*Remark
Label reading distance depends on Inlay design, Reader's power & performance and related application scenario.
General Specification
※ Structure Design: PET+ Aluminum Antenna
※ Antenna Substrate: PET
※ Antenna Tech: Aluminum Etching
※ Inlay Dimension: 95x3mm. Customizable
※ Antenna Pattern Design: Customizable
※ LED Position On Inlay: Customizable
※ RFID, LED Working Mode: Passive (Battery free)
※ LED:Red, Green, Blue
Sensitivity

Reading Distance
Inlay Model: RF-9503XBLGA Antenna Size: 95mm x 3mm
Samples Management
There are often many biological samples in medical, scientific research, production and other activities. Each item needs to be tracking-managed and located in efficient way.
Using UHF LED luminous labels, solves the problems of rapid inventory, rapid handover, rapid positioning and finding of designated samples.
Archives Management
"How to find the one you want in dense files?" That's a problem.
But now, we don't need to worry about it anymore. The system can quickly locate the one you want by lighting up the corresponding luminous tag of that file.
LED labels can realize fast inventory and link management of archives.
If identity management is required, we also have smart cabinets available!

Tools Management
LED labels can be integrated into the tool management cabinet, and help users find the target tool among hundreds of similar-shaped tools quickly, and automatically count the quantity inside and outside the cabinet, which greatly improves work efficiency.
To apply RFID LED tag on each tool or tool's case is a new way to fix such headache issues, meanwhile equips RFID reading system in tools management cabinet.
※ Too much time spent on locating tools
※

Unclear tools management responsibility
※

Tools real-time monitoring and tracking missing

Cables Management
"There are too many cables in limited device space . Which one am I looking for?" Yes, the LED tag! You don't have to go looking through a bunch of cables any more.
Sever & Data center, Telecom Cable Station, Optical Fiber Connectors etc.

Fixed Assets Management
Passive RFID LED Tags can also be applied to asset management. Whether it's metal instruments, equipment or other types, RFID tag can give it an ID so we can take inventory and find something quickly.
For mini-sized metal objects, Mini RFID LED Tags can also be designed and used for quick inventory and positioning.

Inventory, Logistics, Keys, Unlimited Management
Passive UHF luminous tag can be used in inventory, keys, asset items, production device items, and dense documents unlimited IoT scenarios...
With RFID PDA or readers support, efficiently conduct inventory management and locate specific items.
RFID LED Tag can be scenario-based design and custom-made in form of card, key fob, hangtag, wet inlay, etc.

Edison Series—UHF LED Tag

With revolutionary passive RFID+LED tech, you can read labels in batch, also assist for specific item positioning!
UHF Inlay equipped with luminous LED. It can be customized in various dimensions and printed like regular RFID label.
With RFID handheld or reader, we can find the specific tag with pre-encoded number (Chip EPC). By remotely lighting LED on label, can quickly locate what we're looking for!
The perfect combination of RFID technology and luminous LED greatly improves the efficiency of accurate search and management level!
Honor Series—UHF Flexible On-metal LED Tag

UHF Flexible On-metal LED Tag can work on metal object surfaces. Also can tailor-make various sizes for different application.
With RFID handheld or reader, we can find the specific tag with pre-encoded number (Chip EPC). By remotely lighting LED on tag, quickly locate what we're looking for!
A tag 30×60×1.4mm makes read range 4.8M and LED lighting range 1.8M by PDA.
Honor Series are available for regular RFID printers to print variable data due to its flat surface. It brings convenience and improves efficiency for RFID application with metal objects!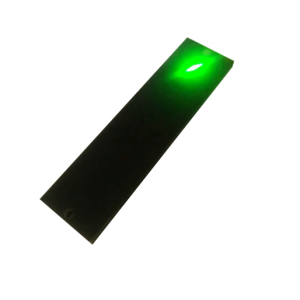 Skai Series—UHF PCB On-metal LED Tag

UHF PCB On-metal LED Tags can be used for metal surface to manage metal objects.
The hard tag surface can withstand impact IP67 level. Dimension and protection plastic case can be customized.
With RFID handheld or reader, we can find the specific tag with pre-encoded number (Chip EPC). By remotely lighting LED on tag, quickly locate what we're looking for!
It is often used to quickly search and locate metal instrument and equipment asset, and greatly improves the efficiency and management level of finding metal objects!

1.Enter "Parameter" interface, click "Get" to display current power settings.
2.Select target power in "Power" and click "Set" to refresh the power settings. It is recommended to use 15dBm for encoding and 33dBm for inventory.
3."Session" choose "S0" and "Profile" choose "P0".

1.Enter "Inventory" interface, select "Continue" mode, click "Continue" to count all labels.
2.Enter "ReadWrite" interface, select the uncoded label "00000000" in "Tag selection", select "EPC" mode.
3.Fill in "Address" (≥3) and "Length", and click "Write" after input EPC code in "Data".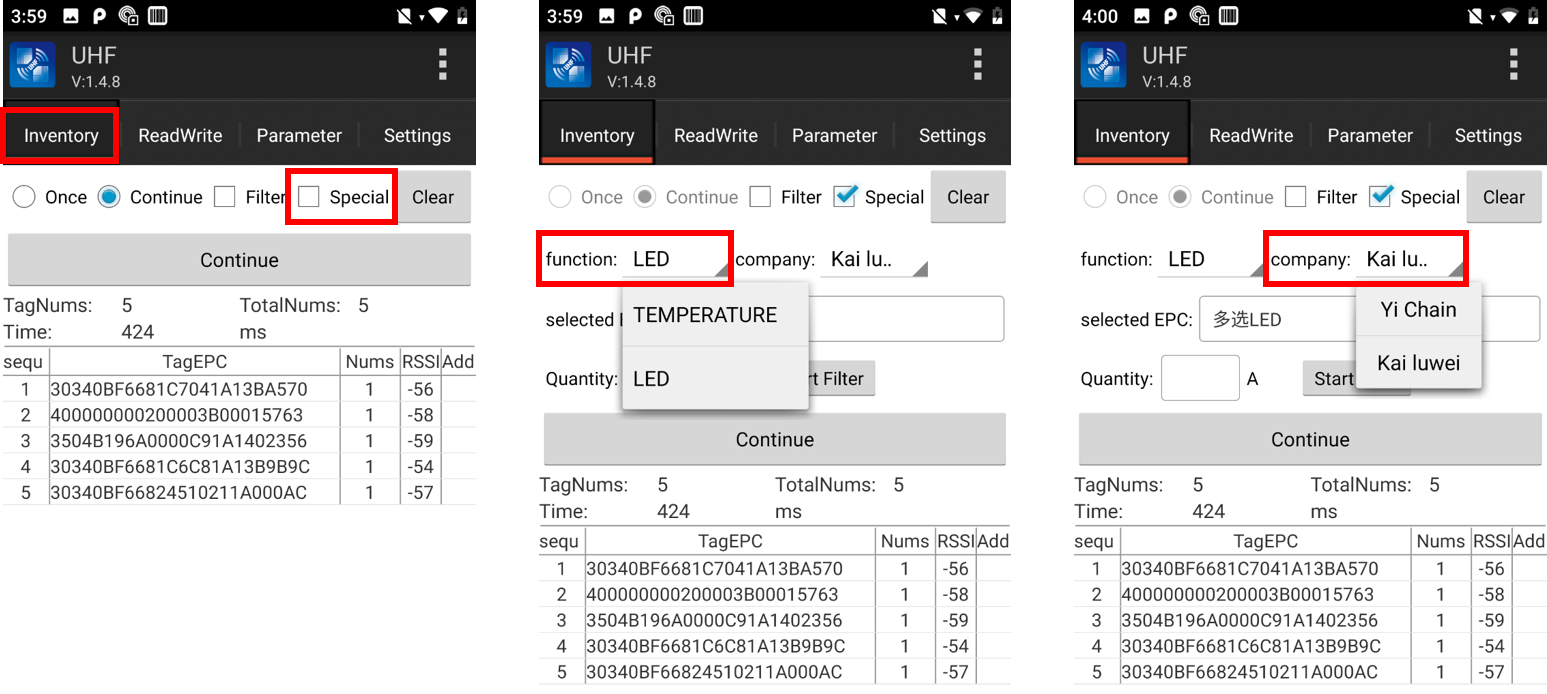 1.Enter "Inventory" interface, select "Special"
2."Function" choose "LED"
3."Company" choose "Kai luwei"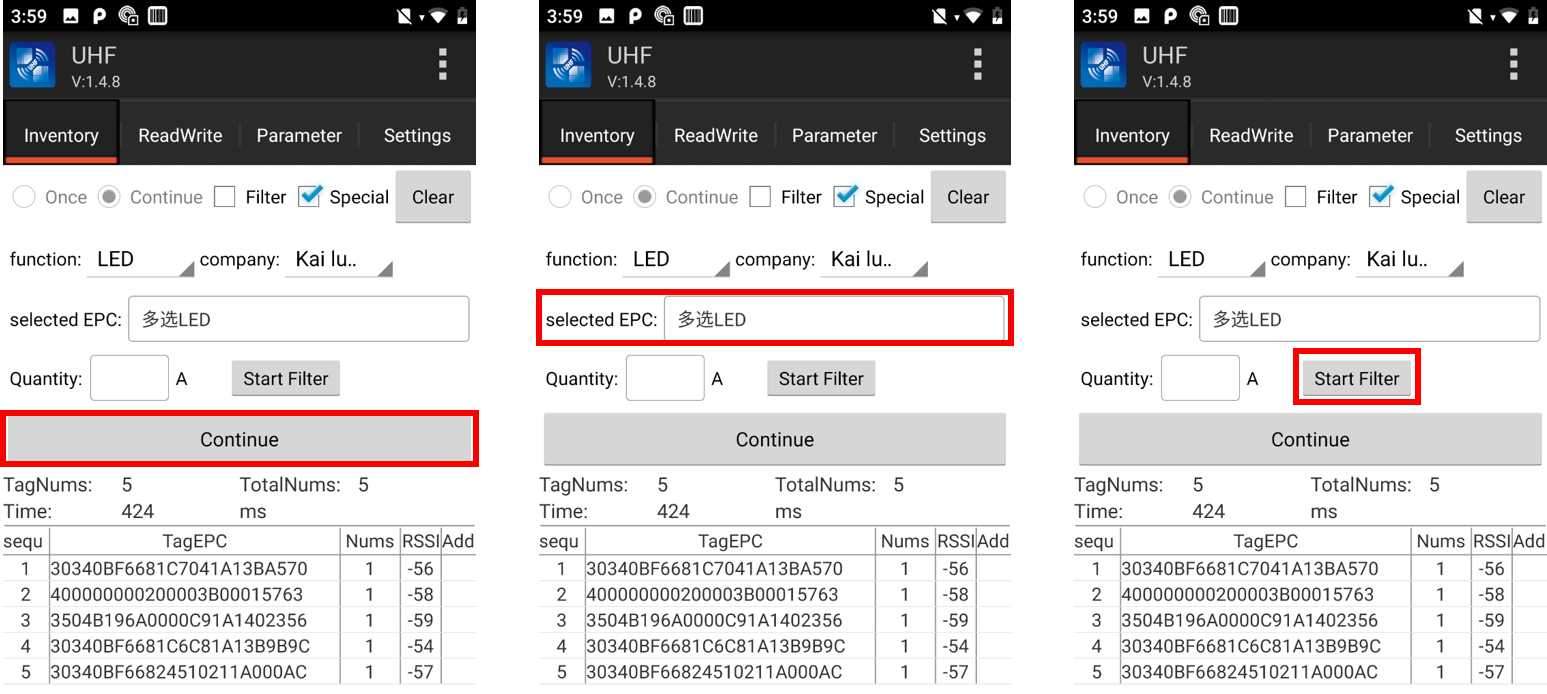 1.Click "Continue" to take an inventory of all labels
2.Select EPC code of target label in "Selected EPC" list (multiple choice)
3.Click "Start Filter", the corresponding LED label will light up
Physical Feature

Q: How many UHF LED label dimensions do you have currently?
A: 100×12 mm(95×3mm antenna), 95×30 mm(42×12mm antenna), 64×28mm (60×24mm antenna), etc. Check "UHF LED Label-Tag Portfolio" for more choices.

Q: How many LED colors available for UHF LED labels?
A: Green, red, blue. Green is the more common type.

Application

Performance
HAPPY TO HEAR YOUR MESSAGE